The Board
Pax et Bellum Board Members
Meet the Pax et Bellum Board for the 2023/2024 academic year!

The goal of the Board, along with several committees and partners, is to create a forum for learning about peace and conflict related issues by organizing different events and activities. We are very excited and encourage you to contact us with suggestions or if you would like to get involved!
Laure Durang- Chair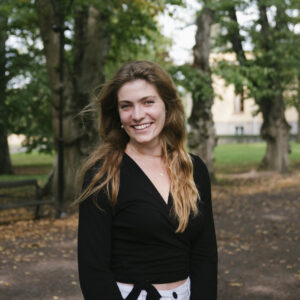 Hej! My name is Laure Durang and I am honored to assume the role of Chair for the Pax et Bellum board for the 2023-2024 term. As Chair, my core responsibility is to lead the board and thereby also ensure effective collaboration within the board. Additionally, I maintain oversight of our various tasks and projects and act as the liaison for external partners. I also chair our board meetings.
While I am originally Dutch, I grew up in Ecuador, Mozambique, and Ghana and recently completed my bachelor's in Amsterdam. During my bachelor's I focused on International Relations and Human Rights. This autumn I started the Master's programme in Peace and Conflict Studies at Uppsala University.Within the field of Peace and Conflict, my interest especially lies in the facilitation of bottom-up peace initiatives and the power of grass-root movements. I am also very interested in peace initiatives led by youth and how these impact the society at large.
But above all, I am very excited for the year ahead with Pax et Bellum. My goal is to make Pax et Bellum an inclusive and dynamic space that serves as a platform for advancing the field of Peace and Conflict. Besides this, I am looking forward to organizing many interesting and fun events together with the board to uphold our mission of facilitating discussions and learning more about peace and conflict related issues. I am also excited to further explore our partnerships with several remarkable institutes, academics and practitioners in the field. Overall, I am confident this is going to be a great year marked with growth, and I look forward to meeting everyone!
Felice Mantel – Vice-Chair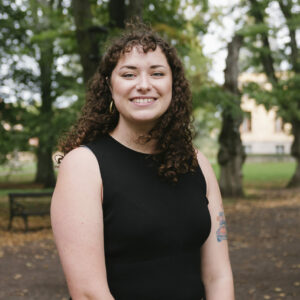 Hejhej! My name is Felice Mantel and this year I have the honor to fulfill Pax et Bellum's Vice Chair position. This position implies that I mainly support Laure as Chair to keep track of current plannings, happenings and dynamics as well as to help the rest of the board with the planning of events. I also represent Pax et Bellum within the Studentunion's Section for Social Sciences.
While completing my Bachelor's in Political Science and Sociology at the University of Mannheim in Germany, I had the opportunity to spend two semesters in Cali, Colombia. This experience and the new perspectives I have gotten from it, reinforced me to specialize in Peace and Conflict studies. My main interests within the field lay especially in dynamics of insurgency including mobilization, financing, rebel governance, rebel-civilian relation and civilian agency. I am also keen on learning more about protest and other non-violent movements.
My excitement to be part of Pax et Bellum could not be greater and I cannot wait to see a year full of enriching academic events, discussions bridging the gap from academia towards practitioner areas, building social ties between people interested in peace and conflict and much more.
Daniela Hobel – Treasurer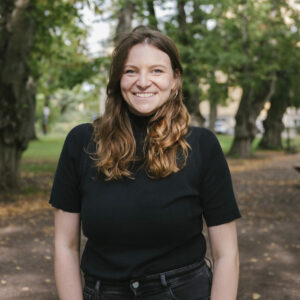 Hej! My name is Daniela Hobel and I have the pleasure and honor to be Pax et Bellum's treasurer for the term 2023/24. Originally, I am from Germany and graduated from a four-year interdisciplinary undergraduate program in Sociology, Politics and Economics at Zeppelin University, with a focus on International Relations, Politics and Administration.
During and prior to my studies I gained two experiences abroad, in Peru and in Iran, which led me to put my attention particularly to theories of peace and conflict studies. Since then, I have been passionate about the field and cannot wait to get involved in the discipline beyond the classroom. My special interest lies in the area of Disarmament, Demobilization and Reintegration (DDR) as well as civilians in conflicts.
I look forward to obtaining extensive and profound knowledge of the issues that challenge international security and peacekeeping nowadays and in the future, and I am excited to work with a fascinating team and contribute to plenty of interesting events for our members.
Linus Wehrle – Secretary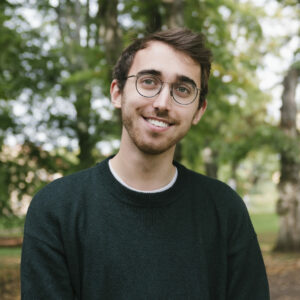 Hej! My name is Linus Wehrle and I am this year's secretary of Pax et Bellum. My task as part of the board is mostly focussed on taking minutes of board meetings, updating our membership list, managing general enquiries and publishing our newsletter. In the last four years I studied for my bachelor's degree in Political Science and Geography at the University of Heidelberg in Germany and had the opportunity to spend one year at Trinity College Dublin as part of my Erasmus exchange. For me, a rich offer for students outside the lecture hall, both informative and entertaining, is an important aspect of an excellent study experience. Providing this for our fellow Pax et Bellum members is what motivated me to get involved in Pax et Bellum. Academically, I am mostly interested in peace negotiations, how institutional settlements can facilitate peace, post-conflict reconciliation, and the role of minorities in conflict.
Nerea Olarte – Head of Activities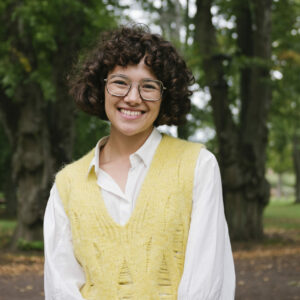 Hej! My name is Nerea and I'm thrilled to be onboard at Pax et Bellum as the Head of Activities. This role involves the overall organisation of Pax et Bellum activities which means that together with the team I will actively engage with agenda planning of peace and conflict-related events, workshops, seminars and all kinds of cultural and social gatherings.
As for my background, I graduated in International Relations from Deusto University (Bilbao, Spain) and, I had the great opportunity to complete one of the years studying at PUC-Sao Paulo University (Brazil). This boosted my enthusiasm for living abroad and discovering new places, eventually driving me to Brussels to work in the European policymaking scene. After some time, I realised my huge passion for peace and conflict studies and now I am incredibly excited to start this new path.
As a Peace and Conflict Master's student, I'm highly interested in the intersection of this field and gender studies, especially regarding civilians' protection, migration and post-conflict societies. I believe Pax et Bellum is the perfect platform to dive into these matters, learn from peers and enlarge our knowledge and connections within the field. Thus, I take this responsibility with a big enthusiasm and the desire to create a vibrant and inspiring space for the Pax et Bellum community.
Martina Andrene Michael – Head of PR and Marketing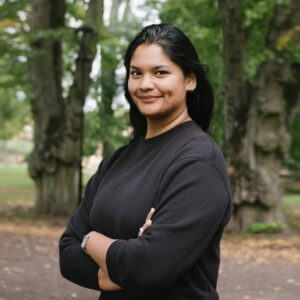 Hej! I'm Martina Andrene Michael and I hail from Malaysia where the food is spicy and the weather along with the people are always warm. As the Head of PR and Marketing, I'm responsible for the overall design and interface of the organisation's social media accounts.
I'm a strong ally of peace efforts across Southeast Asia mainly focused on forced migration which has led me to pursue my Masters in Peace and Conflict Studies here at Uppsala University.
Along with the other board members, I'm equally pumped to contribute and buttress collaborations with our partners.
"Perdamaian tidak memiliki batasan."
Artur Frantz- General board member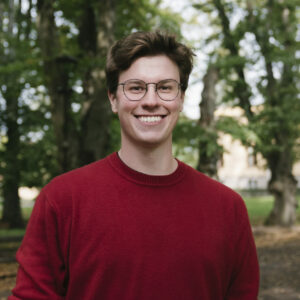 Hej! My name is Artur Frantz and I will be the General Board Member (GBM) at Pax et Bellum for the 2023-24 term. I am responsible for assisting all other board members in their specific tasks, focusing more specifically on organising activities. I come from Brazil, which is also where I studied for my bachelor's. I hold a degree in International Relations from the Federal University of Rio Grande do Sul (UFRGS).
Throughout my bachelor's I was always involved in extracurricular activities such as student organisations, Model UN events and think tanks. I always believed that what we do outside the classroom matters as much if not more to our learning than our classes. This is the main reason why I joined Pax et Bellum. I want to be part of a group that works together to promote the ideals of peace by building a community of interested people through academic and social events.
My main areas of academic interest include arms trade and control, conflict mediation and negotiation. I am looking forward to working along with the rest of the board to develop our partnerships and strengthen Pax et Bellum.
Meri Mentula –
Editor-in-Chief of Pax et Bellum Journal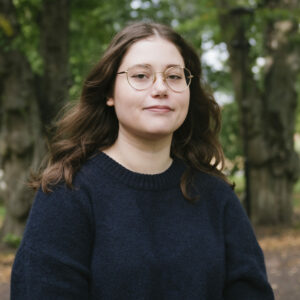 Hej! My name is Meri Mentula, and as the Editor in Chief I am responsible for running the Pax et Bellum Journal. While I am from Finland, I completed my bachelor's degree in political science at Leiden University in the Netherlands, with a specialization in International Relations and Organizations as well as a minor in Intelligence Studies.
During my bachelor, I became very interested in the dynamics of civil wars and wrote my bachelor thesis on the potential roles of female ex-combatants in civil war recurrence. Indeed, my personal interests within peace and conflict studies include the disarmament, demobilization and reintegration (DDR) of combatants and the gender aspects of civil war and post-conflict reconciliation. My experiences writing a thesis and working in research assistance motivated me to pursue a career in peace and conflict research. As an aspiring academic, I then jumped at the opportunity to join Pax et Bellum as the Editor in Chief to feature the voices of other future researchers in the student journal. I believe that students and young people in general have much to contribute to the field of peace and conflict, and I look forward to highlighting their insights and exploring potential collaborations with the rest of the Board and our partners.