The Board
Pax et Bellum Board Members
Meet the Pax et Bellum Board for the 2022/2023 academic year!

The goal of the Board, along with several committees and partners, is to create a forum for learning about peace and conflict related issues by organizing different events and activities. We are very excited and encourage you to contact us with suggestions or if you would like to get involved!
Jana Weigert – Chair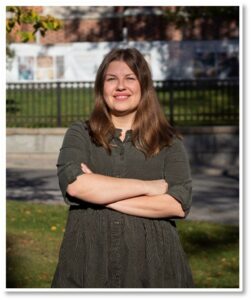 Hej old, new and future members of Pax et Bellum, my name is Jana, and I am the new Chair of Pax et Bellum.
I was born in a small village in the West of Ukraine, but for the biggest part of my life I lived and studied in Germany. After many years of working in the finance industry, I decided to quit my job to start a new and more meaningful career path. In spring this year, I graduated from the Julius-Maximilians-University in Würzburg with a Bachelor's in Political and Social Studies and Public Law. During my studies I spent one semester at Bologna Universitet with the Erasmus+ program and that is where I realized that I want to study my masters abroad. I'm so excited to now be a first-year student of the Peace and Conflict Studies Master's Program at Uppsala University. My main interests lie with Ukraine, its conflict dynamics and understanding why people and states engage in conflicts.
Besides being passionate about peace and conflict research, and I am very excited to start my new academic and professional journey with Pax et Bellum. My goal is to create a welcoming environment for new, old and future members of Pax et Bellum and promote exchange inside and beyond our Pax et Bellum community. I love socializing and meeting inspiring people, and I am particularly interested to explore the partnerships with remarkable institutes, academics and practitioners in the Peace and Conflict field to create more benefits and opportunities for all of Peace and Conflict master students to explore the professional world.
Contact
Jonas Holmberg – Vice-Chair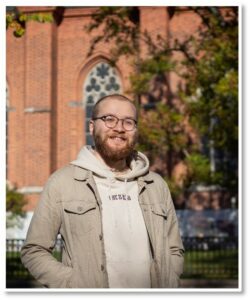 Hej! My name is Jonas, and I come from a Swedish town called Gällivare in the far North. I moved to Uppsala to study a Bachelor's in Peace and Conflict and loved it so much that I decided to continue with the Master's. Some topics I'm interested in is nonviolent conflicts, as well as religion and conflict.
As vice-chair, I help the other board members in planning gasques and other events. Furthermore, I am a member of the Student Union Assembly and hope to deepen the cooperation between Pax et Bellum and the Uppsala Student Union. If you have any wishes or queries, please feel free to contact me!
Contact
Moritz Hoene – Treasurer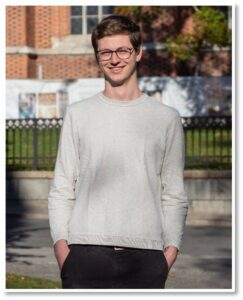 Hej! My name is Moritz, I'm from Germany and I'm this year's treasurer of Pax et Bellum. After school, I moved to the UK where I did my bachelor studies in International Relations and Asian Studies at the University of Nottingham. Earlier this year, I spent a couple of months as a volunteer in Bosnia and Herzegovina. There, I developed an interest in conflict in
the Western Balkans, which I'm excited to explore in more detail during the Peace and Conflict master's programme.

As treasurer, it's my responsibility to make sure we have enough money in the bank to organise all the amazing events we are planning for this year. Feel free to contact me about any financial questions or any other questions you may have! Contact
Ornella Corsant-Colat – Secretary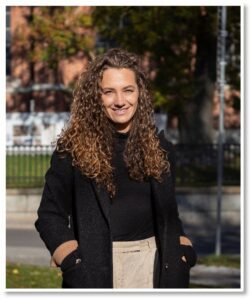 Salut! My name is Ornella. I was born in France, and hold a Bachelor's degree in International Relations from Drew University, in Madison, NJ, USA. Early on, I had the opportunity to gain professional experience with the United Nations and several INGOs. I worked and lived in the Central African Republic for four years. First, as an Information Analyst with the UN peacekeeping operations MINUSCA, then as a Safety Advisor with INSO. In those positions, I was mainly in charge of providing operational and strategic analysis on the security context of Central African Republic while monitoring armed groups dynamics.
Four years later, I felt the urge to shift my field experience back into academia and research. Thanks to the Rotary Peace Fellowship, I was able to join the Peace and Conflict studies program at Uppsala University. As part of my research interests, I'd like to primarily focus on armed conflicts projection and risk management. But most importantly, I am delighted to be on board the Pax et Bellum organization and I am very much looking forward to our activities together with every PeB members.
As the newly elected secretary, I will redact our PeB board meetings in an attempt to foster our organization's transparency. I will be in charge of updating the growing list of PeB membership and publish our newsletter. Don't hesitate to contact me if you're interested in joining the board and/or become a member for life!
Contact
Robert Andersson – Head of Activities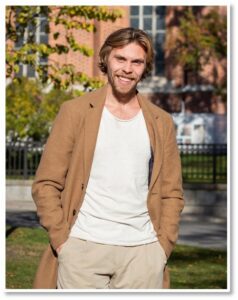 Good day everybody! My name is Robert and I'm one of the few Swedes in the Master's programme of Peace and Conflicts, having lived in Uppsala for the last years. I was at the department for my undergraduate studies and did my final semester on exchange in Boulder, Colorado. My main interest within the studies is to link practical security issues with social psychological factors.
I have been involved in various associations before, engaging in everything from politics to sports. I believe these experiences will be useful during the coming year as Head of Activities in Pax et Bellum. In this role, I will do my best to create both inspiring academic opportunities as well as an active and safe social community for all our members.
Contact
Carlotta Wichmann – Head of PR and Marketing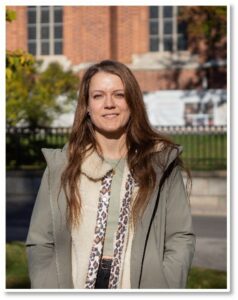 Hej! My name is Carlotta, I am a first-year student of Peace and Conflict Studies at Uppsala University.
I hold a Bachelor of Arts in Social Sciences, with a focus on International Relations and Gender Studies. This already hints at my field of interest, which is gender and armed conflict, especially conflict-related and sexual violence. During my BA I also focused on the topic of protection of civilians, which includes UN-led peacekeeping missions. I am really excited to deepen my knowledge concerning these topics and hope to eventually specialise in this field.
During my undergraduate studies, I used to work at the Department of International Relations as a student assistant. There, I assisted with research activities and database administration. Besides my passion for peace research and gender studies, I am a social and creative person with a passion for political and social engagement. Before my undergraduate studies, I went to nursing school. I am a registered paediatric nurse and continued my work in the medical field for four years after graduating.
As the head of PR and Marketing, I am responsible for the communication with all (potential) PeB members through our various social media channels and the website. My aim is to make Pax et Bellum as inclusive as possible, while promoting the communication not only within but also beyond our PeB community. Please do not hesitate to reach out if you have any questions, suggestions or want to get in touch concerning events that could be of interest to us!
Contact
Marina Matic – General board member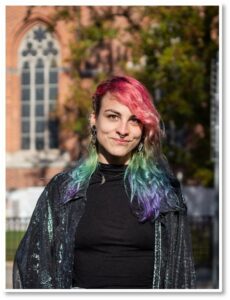 Hello there! I'm Marina, the new General Board Member of Pax et Bellum!
I'm from Serbia, but I moved to Sweden as a teenager and stayed here ever since. I have my BA in Peace & Conflict Studies at Uppsala University, although a couple of years ago I was planning on being an engineer. Since I started focusing more on peace and less on differential equations, my biggest interests have become violence against civilians and religion and armed conflict, and I am hoping to immerse myself in and broaden my knowledge of these topics during my master's studies in Peace & Conflict. Apart from being passionate about current issues and events around the world, I love travelling, art and being creative and taking care of my jungle of potted plants at home.

As the new GBM at PeB I am hoping to contribute to spreading and developing new ideas within Peace & Conflict, as well as sharing and highlighting the importance of focusing on peace not just within the field, but globally.
Contact 
Victor Mulsant –
Editor-in-Chief of Pax et Bellum Journal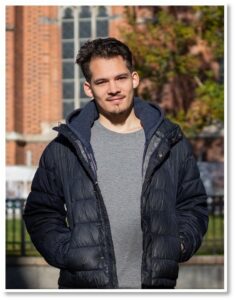 Hello! My name is Victor, I am a first-year postgraduate student in Peace and Conflict Studies at Uppsala University.
I graduated with a Bachelor in politics from the University of Glasgow after having lived in France and Bosnia-Herzegovina. I wrote my undergrad thesis on accountability and the European Commission and do have strong interests in EU politics, although my main fields of interests regard post-conflict institutional design and genocide prevention.
During my undergrad I also became a reviewer and later a board member of a student-led academic Journal (The Student Security and Strategy Journal) and continued on this journey by becoming the Pax et Bellum Journal's Editor in Chief.
Contact