Events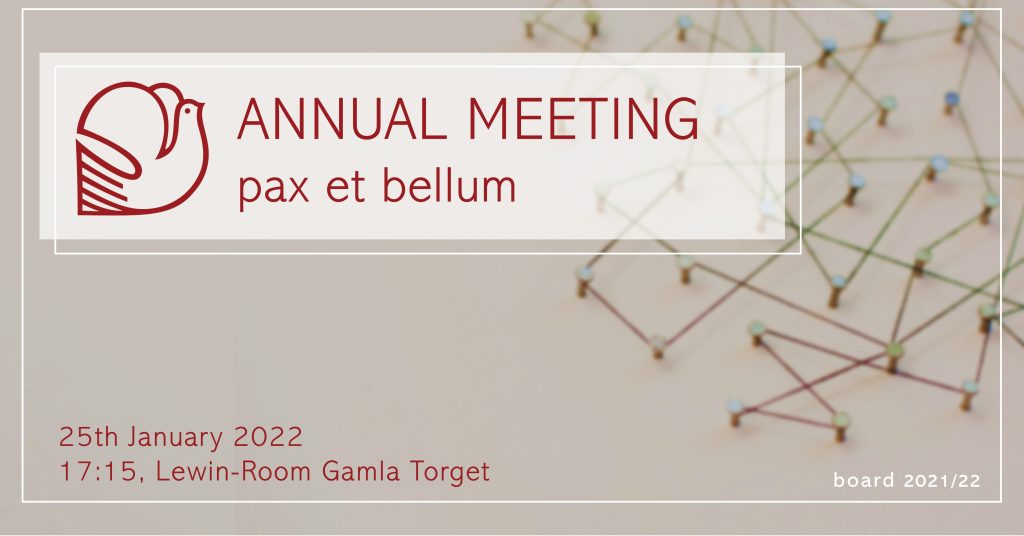 Dear members,
We invite you all to join Pax et Bellum's Annual General Meeting on the 25th of January at 17:15. At this meeting we will go through all the fun Pax-events that have happened the past year, we will highlight important board decision, and you will get more insight into Pax's finances.
You as a member also have the power to influence Pax et Bellum's work by sending in a bill with your ideas and suggestions. This proposition needs to be sent in to the board at the latest on January 18th to chair@paxetbellum.org.
At this meeting we will also elect a new election committee, auditor, and substitute auditor. As part of the election committee you will be in charge of facilitating the election of the next Pax et Bellum board in September 2022. As an auditor you go through the associations financial reports in written form and present this at the Annual meeting and the Election meeting. If you wish to apply to any of these positions beforehand, you can email your application to chair@paxetbellum.org.
The Lewin-room at Gamla Torget 6 is booked for the Annual meeting but the location may change to Zoom if we are not able to follow the Covid-19 restrictions in person. The proposed agenda for the Annual Meeting will be added shortly.
If you have any questions don't hesitate to contact us at chair@paxetbellum.org or info@paxetbellum.org.
Click here to join the Facebook-Event.
See you on the 25th!