Gasque
Pax et Bellum is making two gasques – Uppsala traditional dinner parties – happening this year. Out very own Let Them Have Gasque and in collaboration with UPaD and the department: the annual Peace Gasque.
What is a life of academia but not in need of occasions of glamour and vanities? Because of this, Pax et Bellum is involved in making two gasques happen every year. For those of you foreign to Uppsala traditions, a gasque is a more formal dinner filled with singing, sketches, speeches etc.
Thanks everyone for a fantastic "Gasquerade" gasque on Nov 9th, 2016 and looking forward to the winter "Home" gasque on Feb 4th, 2017!
---
4 February 2017: HOME

Presenting something magical, more gasque than ever before: "Home" by Pax et Bellum
This evening is about three things:
➀ Home. Wherever this place is, it is the greatest pool of stories, tradition and memories. Maybe this word makes you think of a place, a person, a color, a smell or something you can't even explain. Find something (anything) to wear that reminds you of home (if you can, go big – we already have several traditional formal outfits confirmed). During the night, we'll remember, toast and sing to home. We'll honor each other traditions, build up a beautiful collage of patterns, trinkets and customs – then party it all the way to oblivion.
➁ Reunion. This masters program is pretty great despite all of our meltdowns. For all of the fun and imperfect personalities in each class, there is another set, and finally we´ll all be together in Uppsala. Let us sing, cry, drink and eat until our bellies and hearts rejoice. Let someone stand up and toast to peace and that methods is forever over. Let another steal a tablecloth, make it a cape and vault over tables like the hero that was always inside. And let a third run a flag down the parquette and proclaim the Pax republic of Let's Dance Our Faces Off.
➂ Afterparty. We thought, when we're high on the potpurri of Home, let's not do the usual. Let's go full blast. We present: ✯Katushka✯. Uppsala's best, most packed and undoubtedly most raging Balkan club. We made a sweet deal with Norrlands to have this as our släpp. If you should ever experience this thing, now is the time.
What: The feast, party, gasque and reunion, of your lives
When: 4 February, 2017
Where: Norrlands Nation
Tickets + how much: to be sold announced in January
What to bring: song book, pen, cash for avec
What to wear: Formal attire and/or a piece of home (whatever that may be: a suit, an accessory etc.).
Guests are welcome!
In cooperation with Folkuniversitetet.
#gsqhome
---
9 November 2016: Gasquerade

It's time for the first PeB gasque of 2016/2017!
Guaranteed to be one of the most memorable social events of the year, the night will be filled with delicious food, great entertainment, and awesome guests (you). The theme for the night is Gasquerade – yes, a gasque with a masque!
Guests will enjoy a three course dinner, sing songs from the Pax et Bellum songbook, have the chance to win prizes, and are invited to finish the night with dancing! Come dressed to impress with semi-formal attire and a mysterious masque.
This is a night not to miss, so make sure you get your ticket(s) early, as there are a limited amount of seats.
---
8 April 2016: Peace Gasque 2016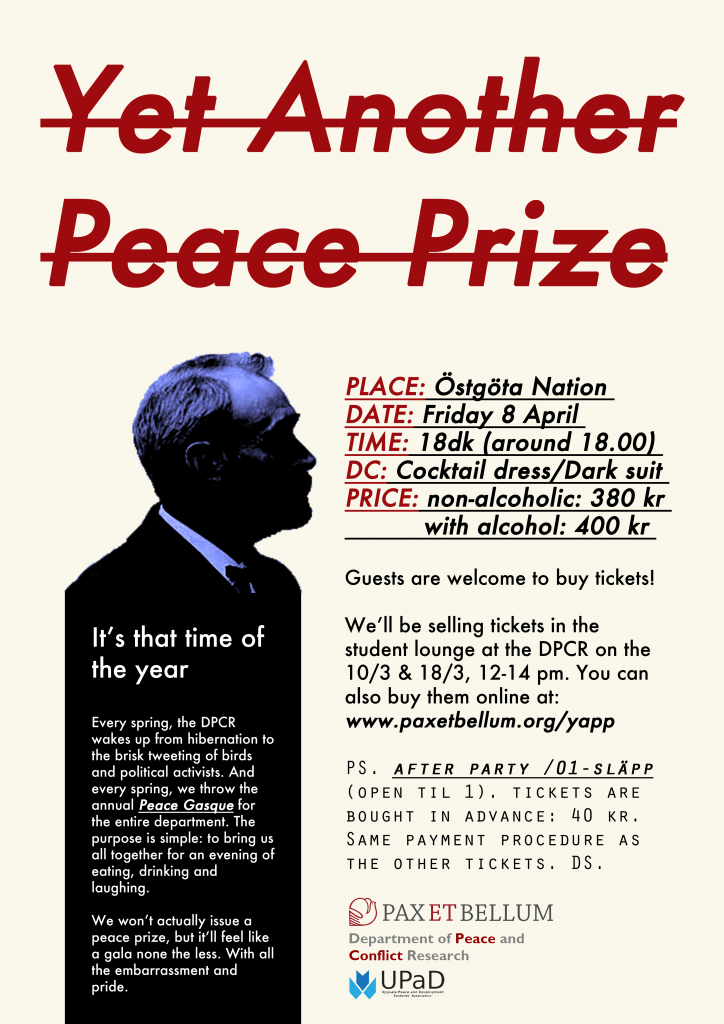 It's that time of the year.
Every spring, the Department of Peace and Conflict Research wakes up from hibernation to the brisk tweeting of birds and political activists. And every spring, we throw the annual Peace Gasque for the entire department. The purpose is simple: to bring us all together for an evening of eating, drinking and laughing.
Let's show them which department loves each other the most.
Click the poster to warp to the official page and get your ticket today.
---
29 January 2016: Let Them Have Gasque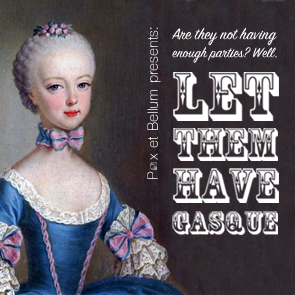 As it reads, the royal motto of Pax et Bellum:
"Are we not having enough parties? Let us have gasque."
This evening has a main purpose: to forge new bonds of friendship within the politically oriented master programs.
Click the poster to warp to the Facebook event and get your ticket today.
Songbook
 Here is the first edition of the Peace and Conflict Songbook by Pax et Bellum and UPaD with all traditional Swedish Gasque songs plus the collected songs of the Peace Gasques. Get a hard copy for 20 SEK in the Pax et Bellum office – just walk up to any of us in the board or contact us.